How often do you get the chance to step into a home that is as grandiose as it is gorgeous? If your answer is 'rarely', then you're in for a treat with Chander Lulla's home! Amongst all 4 BHK flats in Mumbai, this home stands out for its understated opulence that evokes both, an inviting vibe and luxury! Originally a 5BHK, Livspace transformed it into a spacious 4BHK home with stunning decor highlights and design takeaways. Come, join us on a tour of its interiors.
#1: One-Wall Wonders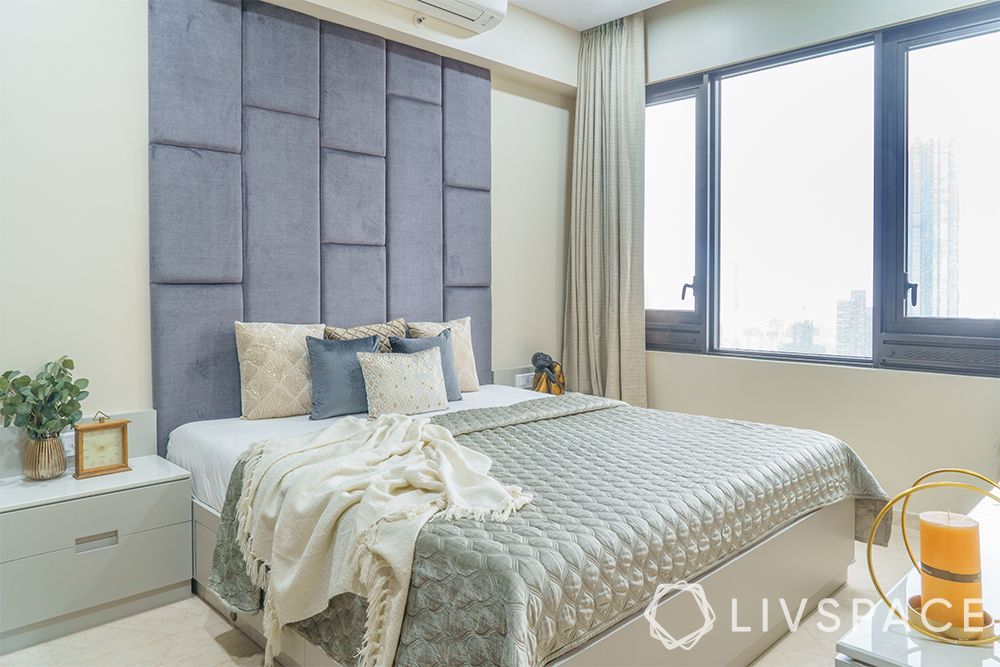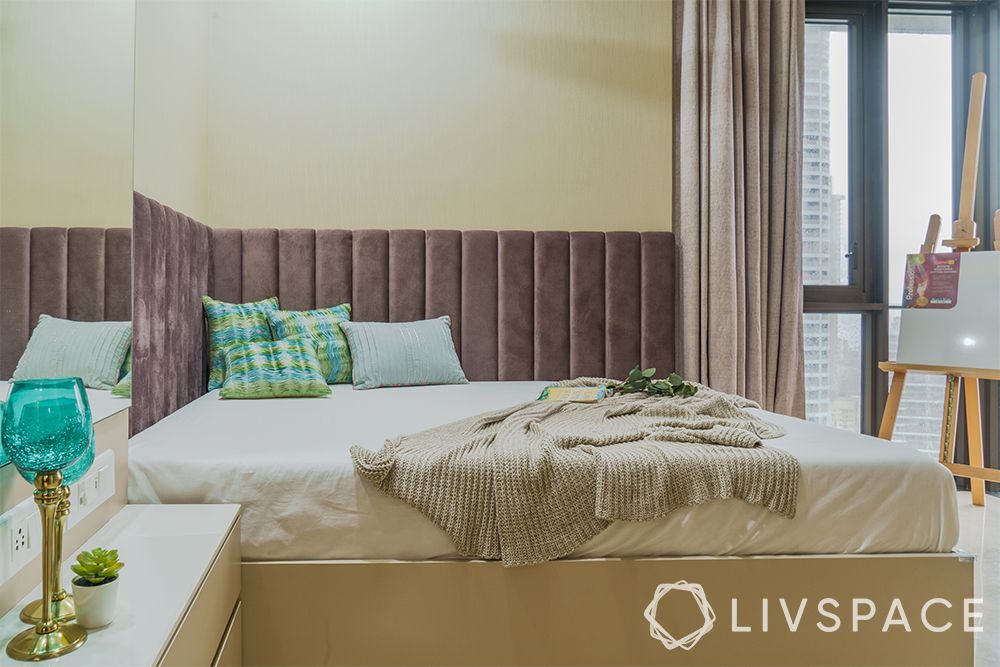 After a long and tiring day, all you want is some piping hot food and a place to rest your feet and lean your head back in comfort. And to rest your head, you need a comfy headboard to go with your bed. Chander's home has some of the most stunning headboard walls we have ever seen! The slate-grey headboard in the master bedroom runs up to the ceiling, creating the illusion of height. At the same time, the soft fabric ensures utter comfort. The chocolate-brown L-shaped headboard in the second bedroom is a perfect child-friendly option as it runs from corner to corner and the velvet fabric keeps your child safe from injuries.
#2: A Variety of Seating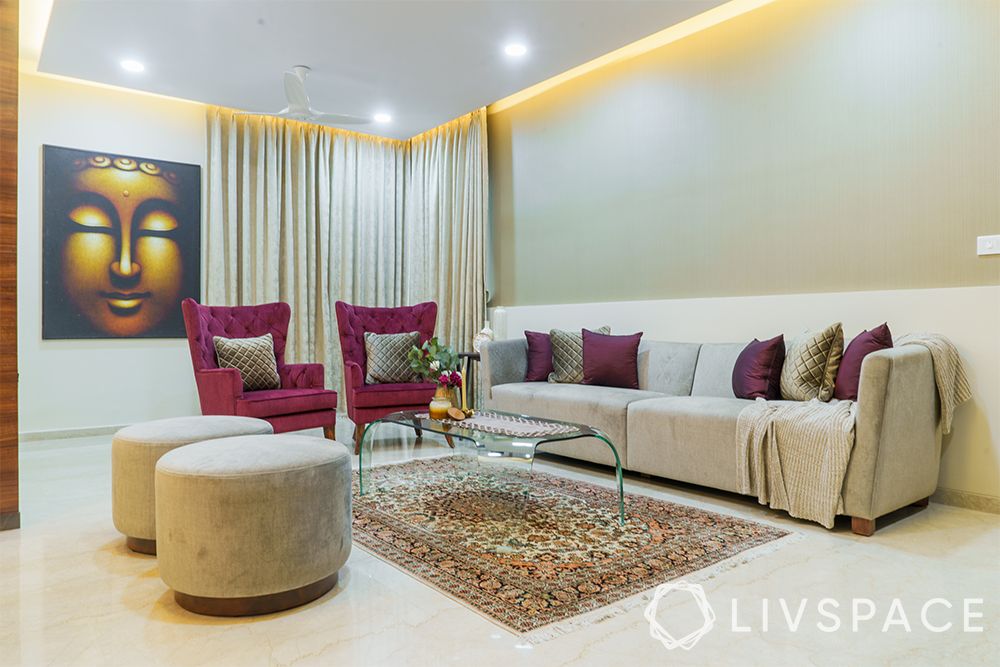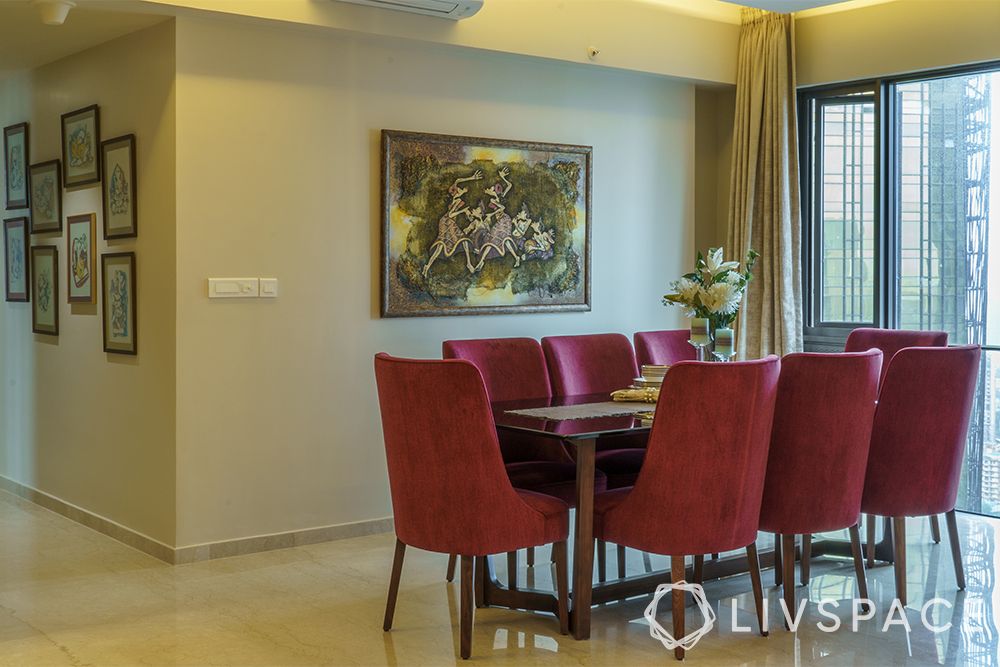 While it goes without saying that a big Indian joint family will require maximum seating, did you know that these days, even nuclear families are opting for the same? The reason is that most millennials love inviting friends over for house parties, creating the necessity for seats. If you look at most 4 BHK flats in Mumbai, seating is never an issue. As is the case for Chander's home, which has a variety of seating and it doesn't even look cluttered. The living room, as you can see, has not one, or even two, but three types of seating! In accordance with the elegant and clutter-free look, Chander chose a beige sofa and ottomans. However, the gorgeous sangria-red accent chairs add that required pop of colour. And maintaining design continuity into the dining area is the eight-seater dining table with sangria-red chairs, perfect for entertaining guests!
#3: Tons of Storage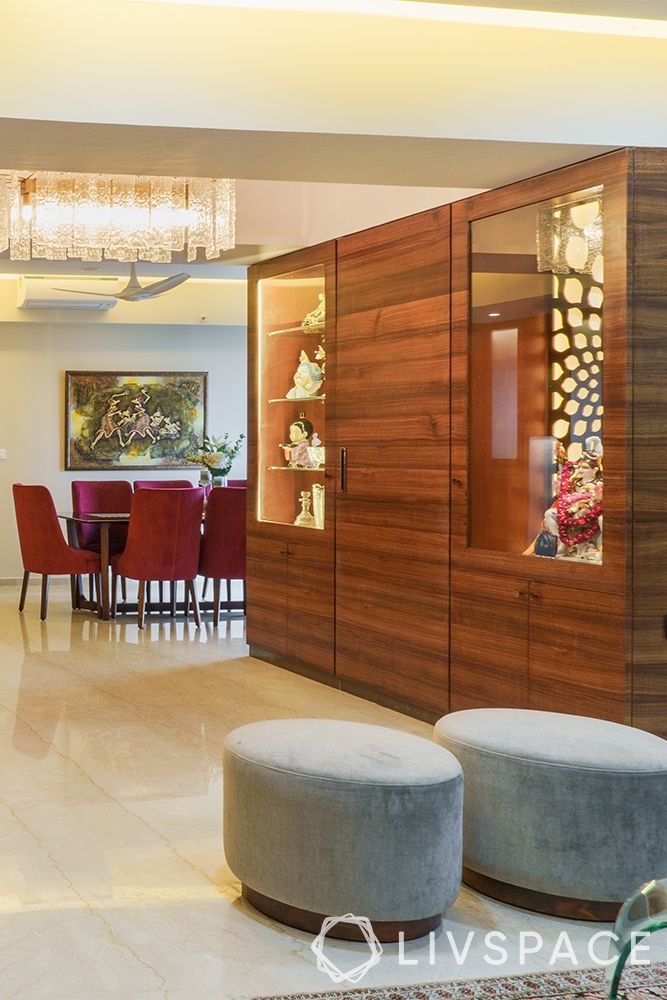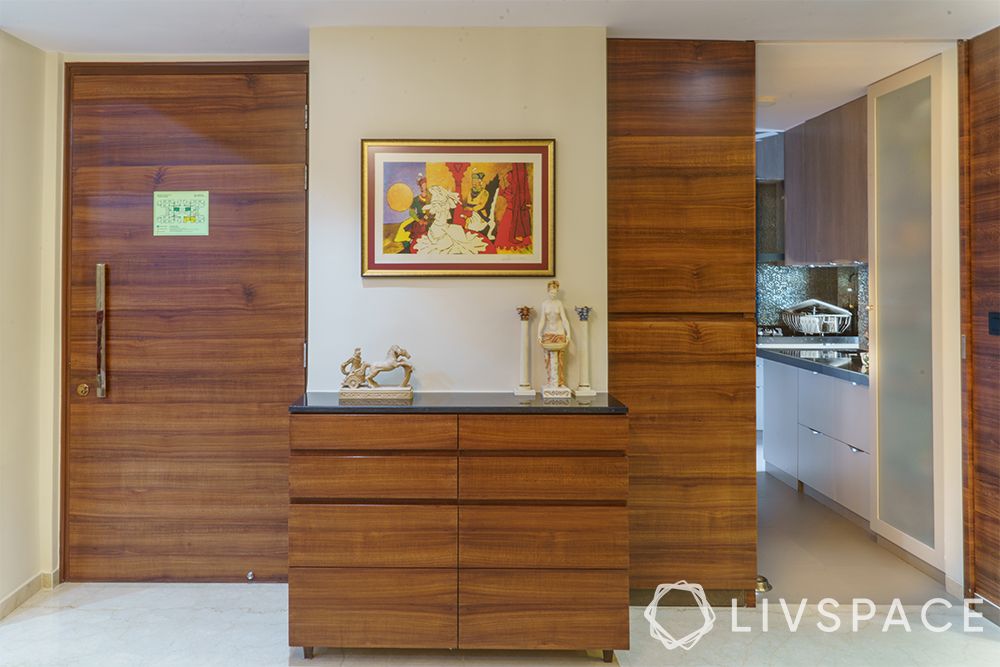 For Indians, there is no such thing as too much storage! Whether you're a bachelor, a couple or a growing family, storage is something that you will always need. While adding storage is not an issue, ensuring that it doesn't look bulky is the main challenge that designers face. Our designer smartly used a massive storage unit as a partition between the living and dining areas. This is a great way to segregate open-plan rooms. Moreover, this unit is multifunctional in the sense that it comes with a separate space for a mandir, complete with a jaali backdrop.
#4: Light it up!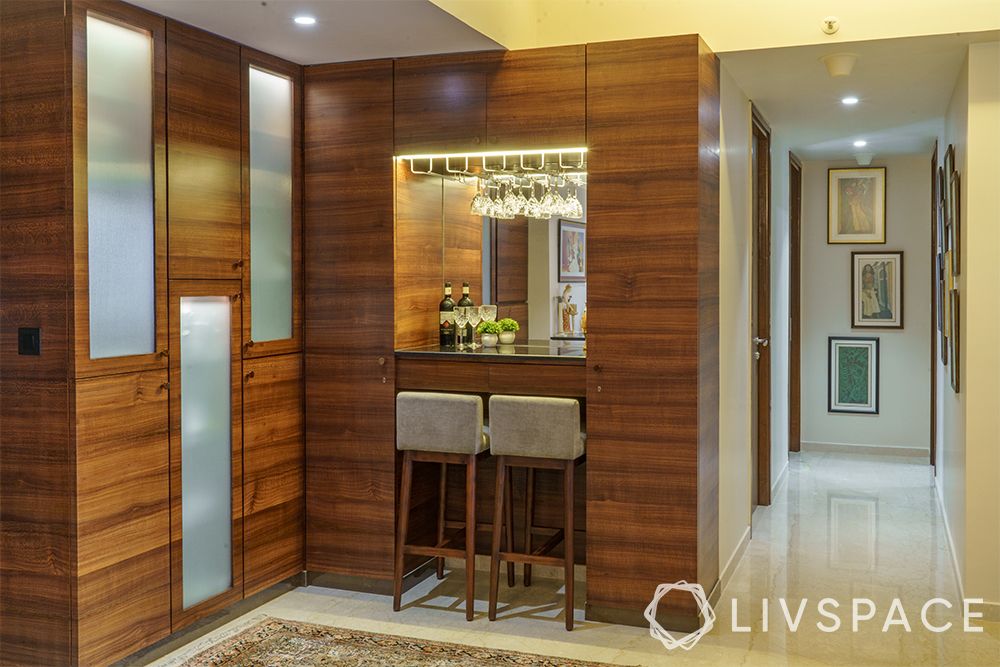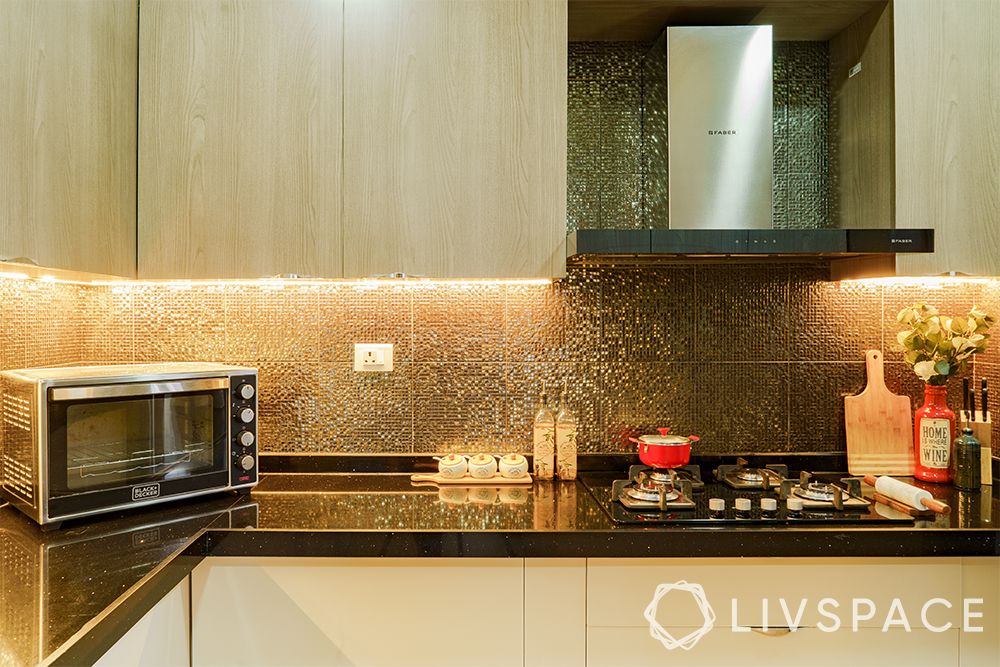 Want to make your home look plush on a budget? The right lighting can give you the look you desire, without breaking your bank! Amongst our favourite 4 BHK flats in Mumbai, Chander's home has some stunning lighting options that you could find! From a bar unit in a niche that comes with overhead lights to spotlights all over the home, his apartment looks like it is straight out of a magazine! Additionally, the kitchen has profile lights under the cabinets. This is not only a good idea to elevate the look of the kitchen but also ensures safety while cutting and cooking.
Chander's home redefines understated glam and elegance while providing everything that a family may need to live comfortably. If you want to see more 4 BHK flats in Mumbai, check out this 4000 sq. ft. luxurious home.
How Can Livspace Help You?
We hope you found our ideas useful! If you want your home to be just as beautiful, then look no further. Book an online consultation with Livspace today. Delivering safe home interiors has been our No. 1 priority. Click here to find out how interiors are being delivered following all safety protocols.
Wondering how our customers feel about working with Livspace? You can check out the Livspace reviews here!
We love hearing from you! Write to us with your comments and suggestions at editor@livspace.com