2022 can be marks of the return of cropped vests, rise of NFTs and themes of sustainability. Much like the world outside, the world of interiors is becoming less about what's fashionable and more about creativity and personal expression. If you've noticed that too, it's only normal that you're looking for the best kitchen design for your home in 2022. As we have worked for millions of customers across the globe, here are some latest kitchen design trends of the season.
Our Kitchen Guru, Gopal Dwivedi takes us on a tour of the latest kitchen design trends for 2022. From automated cabinets to trendy colours, we have got all the tea for you. Thus, here are unique kitchen design trends that we have been in vogue all year:
#1: Flavour Your Kitchen With Contrasting Colours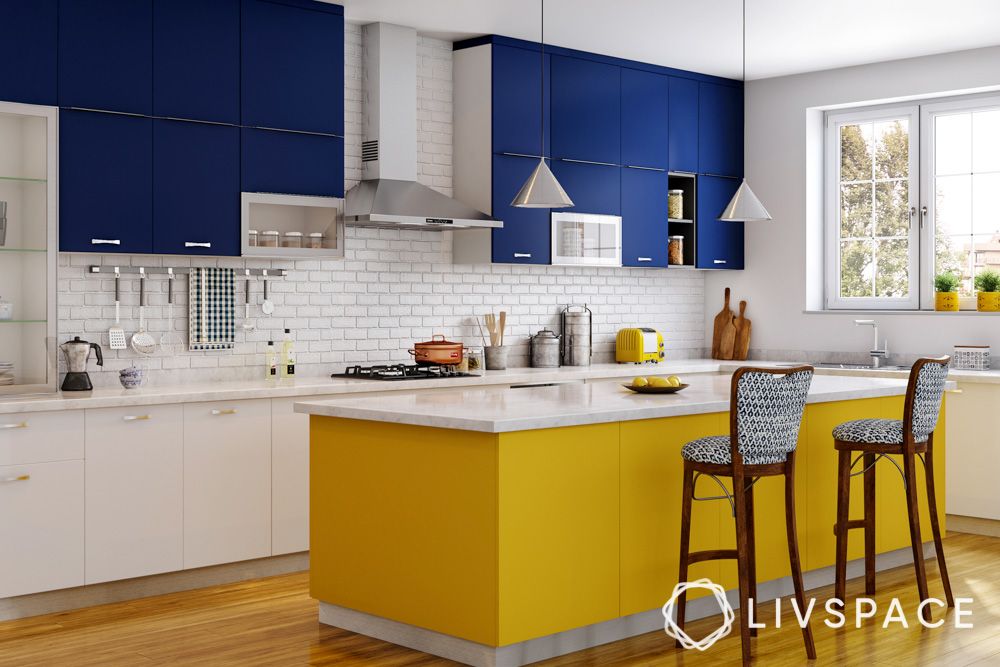 More people are preferring contrasting colours to break the one colour monotony in their latest kitchen design. Additionally, our in-house kitchen materials expert Sagar Deb Roy says:
"Kitchen cabinets and countertops with contrasting colours is the latest kitchen design trend."

Sagar Deb Roy, Livspace Materials Expert
Which Colour Combination Is the Best for the Kitchen?
The best kitchen design colour combination depends on one's personal preferences. Explore some popular options here!
Which Colour Combination Is Best for Kitchen Cabinets?
The most common kitchen colour combinations are white. Here are some good ideas that can look great in your kitchen.
What Colours Go With Grey Kitchen?
Muted green, yellow and white are some of the popular colour combinations that you can explore for your grey kitchen.
What Are the New Colours of the Kitchen in 2022?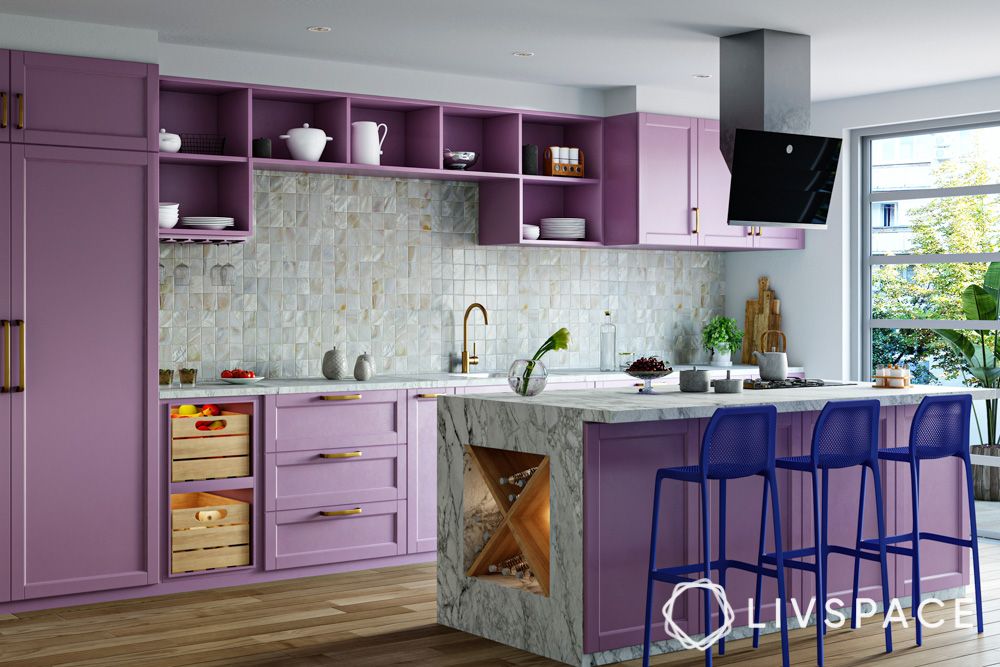 Did you know that the Pantone colour of the year is the happiest and warmest shade of blue? So, Very Peri, a lush blue with hints of red is a new colour by Pantone and will rule the roost in 2022. Happy blue kitchens, anybody?
#2: Hit 'em With Veined Countertops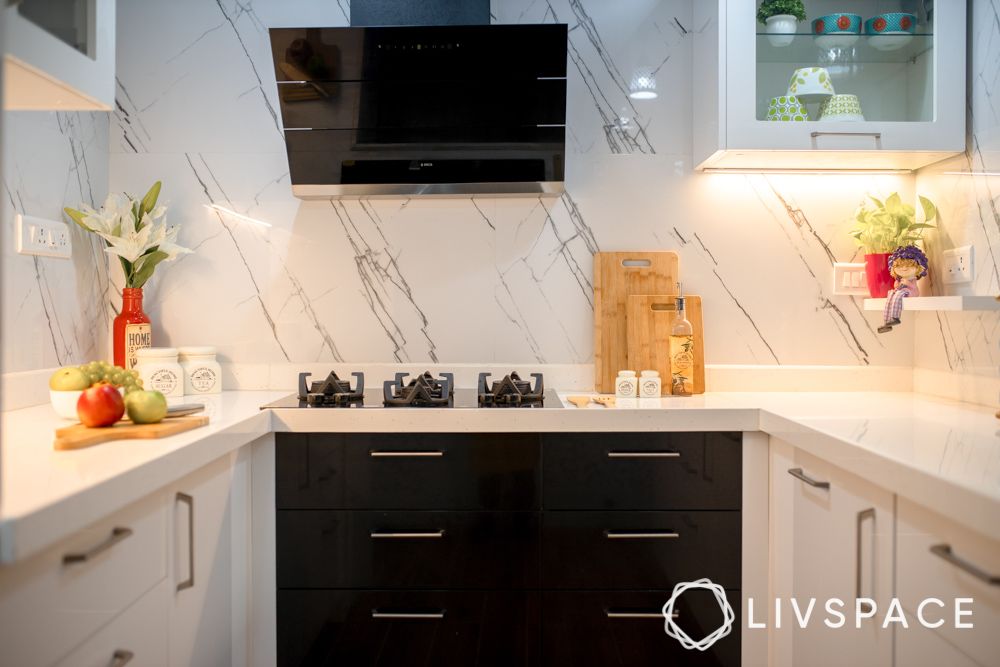 Veining patterns, naturally occurring in marble, have seen a surge in popularity. In fact, it adds to a more natural and unique kitchen design. However, marble countertops are highly porous, which makes it difficult to maintain in Indian kitchens. Thus, a quartz countertop with a veined pattern is better for use.
Also Read: 8 Gorgeous Ways to Use Marble in Your Home
Can You Get Veined Quartz?
Yes. Quartz countertops can be engineered to have veins as a part of their design.
What is the Most Timeless Countertop?
Natural stone is the most timeless countertop, according to experts.
How Do You Make Concrete Countertops?
Concrete countertops are made on a support frame. This frame is wired to give it the desired shape.
#3: Go to Town With Magical Matte Finishes
This year, we are moving towards mattes when it comes to finishes for our kitchens. Matte finishes look subtle (which is the overarching sentiment of the millennials these days) and are highly durable, so why not, right? Our Kitchen Guru, Gopal Dwivedi says "Dark Oak and Walnut finish will be the shades to watch out for in wooden tones. But, if you want to glam things up, go for metallic PU paint."
He also added that the latest kitchen designs of 2022 will steer towards flat panels instead of fluted or grooved ones. To sum it up, it's the season of seamless finishes!
Is Matte Finish Good for the Kitchen?
Yes. If you want a rich, luxe and smooth to your kitchen, go for matte laminates. They are also scratch-resistant.
Is Glossy or Matte Better for the Kitchen?
Both the options have their own pros and cons. Matte is scratch-resistant and gives your kitchen a richer look, while glossy laminate is good for small kitchens. Explore more here!
Should Kitchen Cabinets Be Matte or Satin?
That depends on your personal preference. Both matte and glossy cabinets have their pros and cons that you can explore here!
Are Matte Cabinets Hard to Clean?
Matte cabinets are easy to clean. Unlike glossy laminates, it does not reflect dust and other stains easily.
#4: Prepare For a Perfect Medley of Sharp Angles and Soft Curves in the Kitchen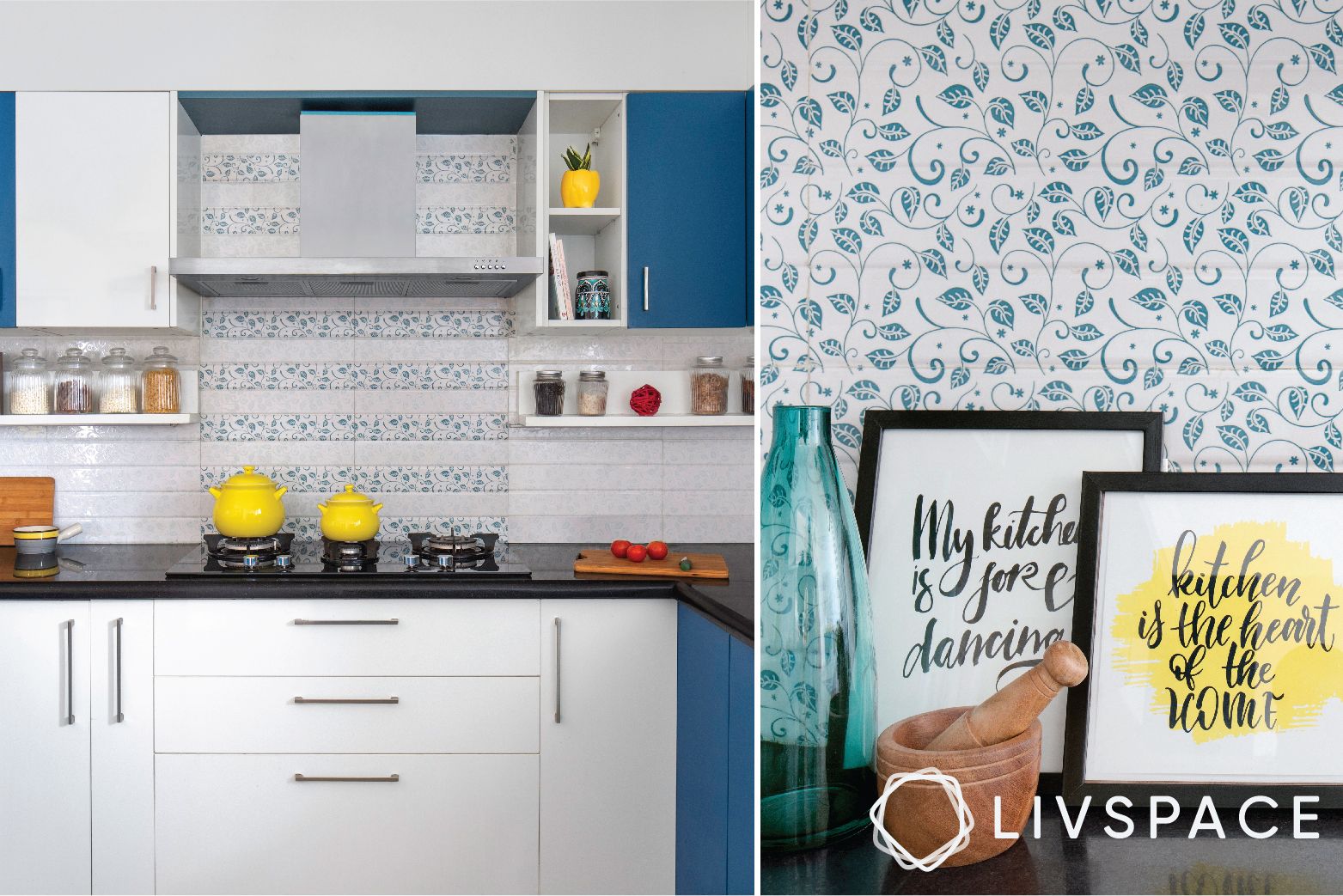 Our Kitchen Guru also advises using mixed patterns harmoniously. Think bold geometric pattern tile backsplash with naturally veined countertops for subtlety. This is yet one example of this, there are countless combinations that can exhibit this pattern assortment in the latest kitchen designs.
What Kitchen Tiles Are the Best?
Ceramic tiles are perfect for kitchen backsplashes. However, consider porcelain or natural stone tiles for kitchen flooring.
What Are the 6 Types of Kitchen Layouts?
The six basic types of kitchen layouts are: parallel, straight, L-shape, U-shape, island and straight kitchen.
What Are the Most Popular Kitchen Themes?
Modern farmhouse, industrial kitchens, minimalist kitchens and contemporary kitchens are the best kitchen design themes of 2022.
#5: Efficiency and Kitchen Cabinets Will Go Hand-in-Hand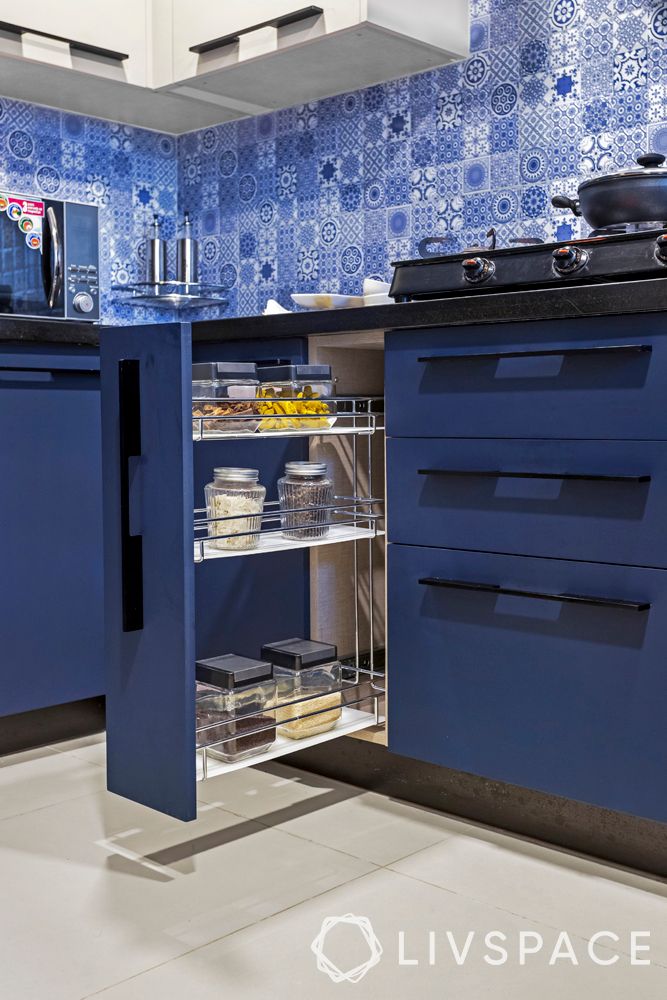 Kitchen cabinets are to accommodate modular kitchens more efficiently. There have been a lot of new types of storage cabinets modular kitchen design 2021 saw. In 2022, the latest kitchen design ideas will continue to have more systematic cabinets. Our kitchen guru says:
"lots of appliances with automation, long cabinets with glass doors, invisible hinges, pull down accessories for ease of accessibility, mechnise doors, handleless doors, foldable doors which can be folded and become invisible in side pockets of cabinets, drawers with more organisers and higher load capacity."

Gopal Dwivedi, Kitchen Guru/Expert
What Kitchen Cabinet Is the Most Popular?
Tall units, pull-out drawers, roller shutters and corner cabinets are the most popular cabinets of 2022.
What Is the Future Trend for Kitchen Cabinets?
Handleless cabinets, glass cabinets and metallic hues are the future trends of kitchen cabinets.
What Is the Cheapest Option for Kitchen Cabinets?
Opt for plywood or melamine kitchen with laminate finishes for a durable, yet budget kitchen cabinet design.
Is It Cheaper to Buy Your Own Kitchen Cabinets?
It can only be considered a cheap option if you have carpentry expertise. If not, in the longer run, the architectural flaws may prove costlier for you.
Also Read: 20+ Hilarious Design Fails That Will Instantly Make You Want to Hire an Interior Designer
#6: Minimalism and Industrial Styles Will Rule the Roost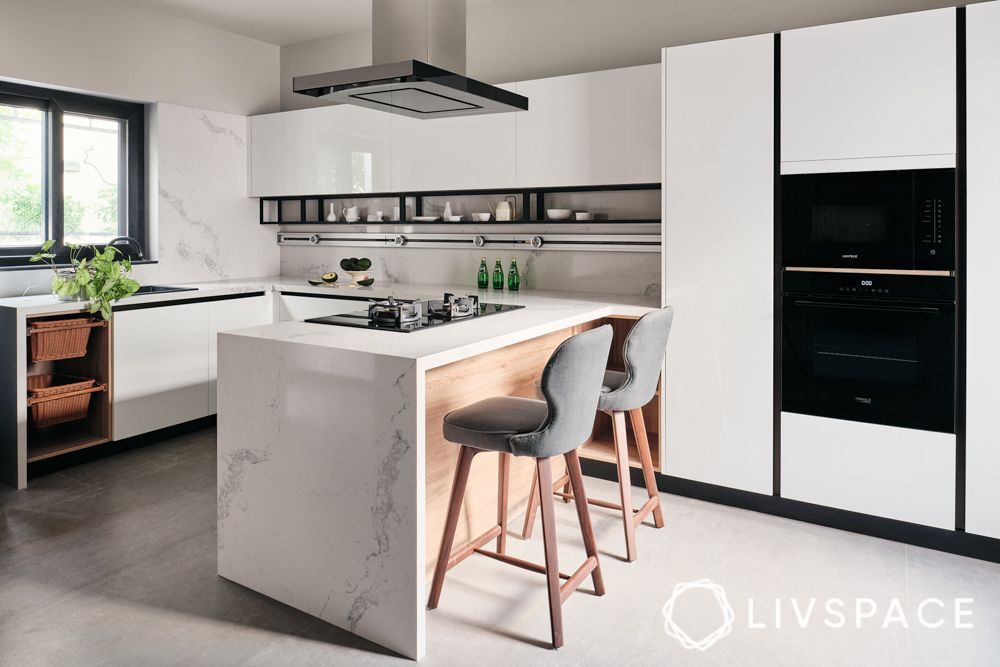 Kitchens need to be aesthetically pleasing without negating storage and functionality. Thanks to modular kitchens, it is possible to combine the two. Minimal kitchen styles have become a crowd favourite as they keep the kitchen space-optimised and clutter-free. Another style that is gaining popularity is the industrial one. Inspired by the late 1990s American warehouse aesthetic, Industrial style kitchens are best for heavy-duty users.
How Do I Make My Kitchen Minimalist?
To do so, declutter your kitchen and carefully arrange for storage that keeps your pots and pans out of sight.
What Is a Minimalist Style Kitchen?
Minimalist style kitchens incorporate the core elements of the minimalist style. Thus, minimalist kitchens have neutral colours, simple forms and loads of storage.
What Is an Industrial Kitchen?
In an industrial kitchen, utilitarianism takes the centre stage. Use of raw and rustic finishes and materials is often seen.
How Do You Design An Industrial Style Kitchen?
Pick a two-toned colour scheme along with rough and rustic finishes. Also, use stainless-steel elements.
PRO Tip
The mid-century modern style kitchens are also set to become big in the style scene. Look out for warm colours, wooden accents and statement textures. Don't know what a mid-century modern kitchen looks like? Picture the sprawling, open kitchen in Don Draper's New York apartment from Mad Men.
Also Read: 12 Kitchen Design Styles That are Best Suited to Indian Homes
#7: Welcome In Open Kitchens!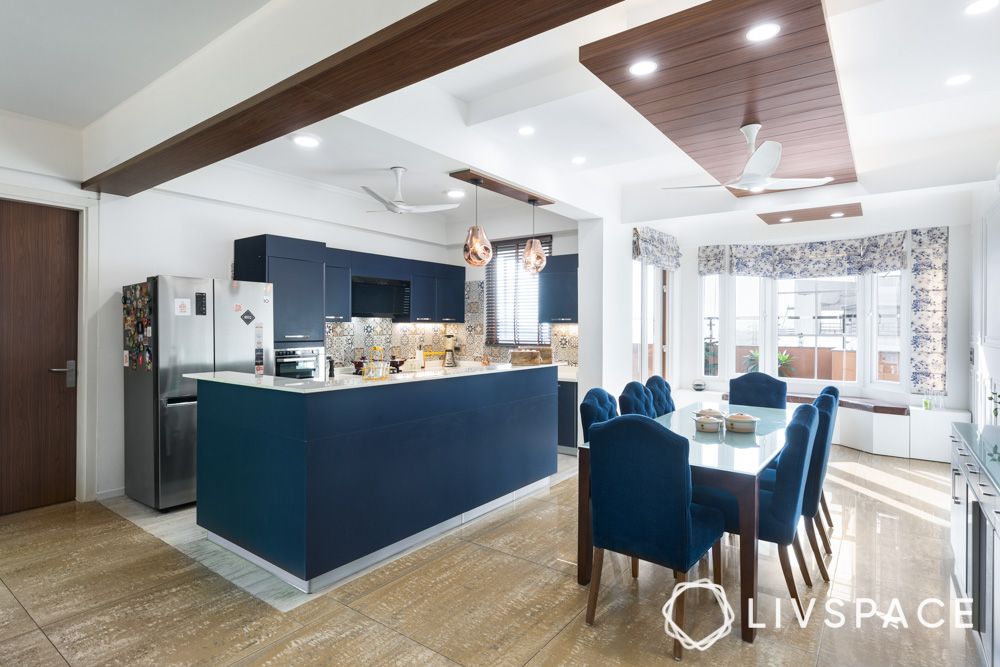 Open kitchens have been the norm for a few years now, and they will continue to be as we move towards open layouts for apartments. Cooking is no longer an isolated activity performed by the women at home; it has become more of a collective chore that brings families or couples together. So, we will continue to see more open kitchens as a response to our lifestyle changes.
What Is the Concept of an Open Kitchen?
The open kitchen concept is a kitchen without walls separating it from the rest of the house.
Is An Open Kitchen a Good Idea?
Open kitchens are trendy and space efficient. However, the decision lies in the hands of the homeowner. Read this to get a better idea.
What Are the Disadvantages of An Open Kitchen?
Open kitchens need to be organised all the time as they don't offer privacy.
How Do You Open a Private Kitchen?
This may require some structural changes. Consult a designer to get an estimate of work and costs included.
#8: Float Towards Those Kitchen Islands!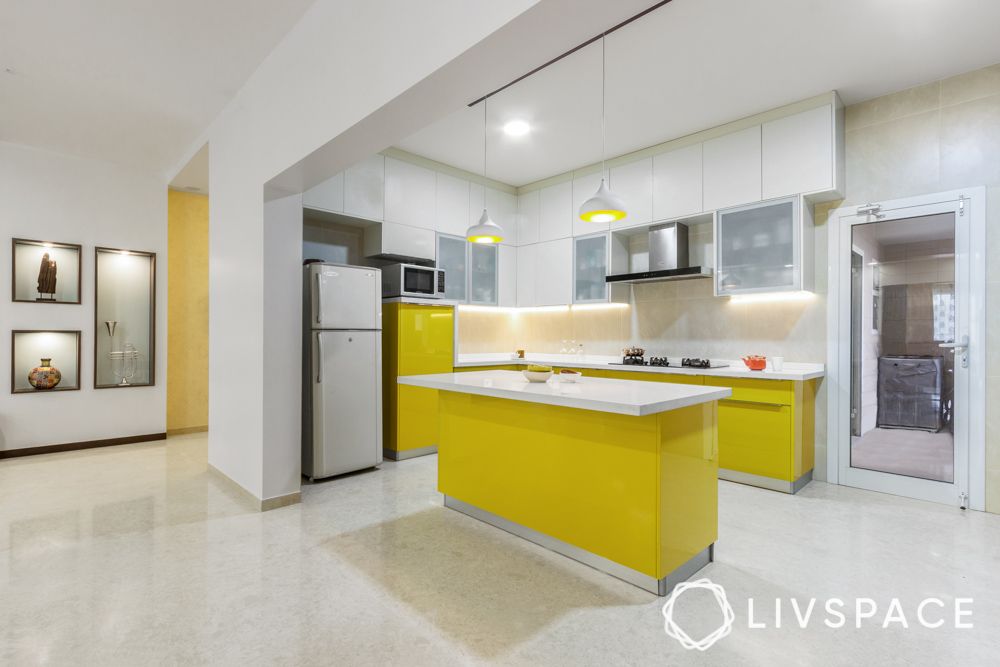 Kitchen islands have become the new addition to latest kitchen designs. They keep things dynamic, provide extra storage space and seating to the kitchen. Also, it is a great place to work from home and also 'for' home! These are some undeniable perks that kitchen islands provide. Unsure about them? Click here to know the pros and cons of kitchen islands.
Can I Just Buy a Kitchen Island?
Yes, you can do so if the space allows. However, if you need it to have storage or in-built appliances, it is better to consult a designer.
Are Kitchen Islands Out of Style?
No, kitchen islands are, in fact, very much in for 2022-23.
How Much Does It Cost to Put An Island In Your Kitchen?
Cost estimates depend on individual requirements and are usually calculated under the cost of your kitchen.
Are Kitchen Islands a Good Idea?
Kitchen islands provide you an extra countertop and can be equipped with storage. They are quite a gift for any kitchen design.
#9: Explore Semi-Modular Kitchens As Another Trendy Option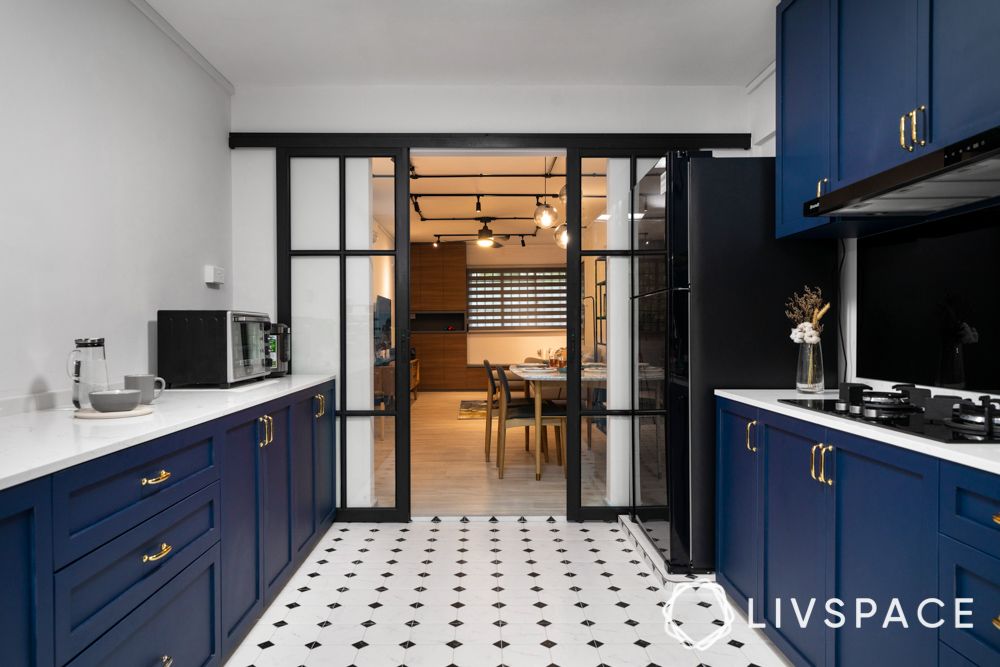 Semi-modular kitchens have raised some eyebrows in the kitchen industry, mostly because they are very cost-effective. Inspired by modular kitchens, these require a smaller budget. However, these can be harder to install, assemble and maintain. Click to find out more about semi-modular kitchens.
What Is a Semi-Modular Kitchen?
A semi-modular kitchen is installed in parts. So, it is fitted in after the countertop and hob has already been installed.
How Much Does A Semi-Modular Kitchen Cost?
A semi-modular kitchen cost varies when compared to a modular kitchen. However, it depends on individual preferences and tastes.
Which Is the Best: Modular Kitchen Or Semi-Modular Kitchen?
Both the styles are highly dependent on homeowner needs. However, a modular kitchen gives you more control when it comes to design.
What Are the Disadvantages of Modular Kitchen?
Modular kitchen can be expensive, high-maintenance and do not come with unique designs.
#10: Light Your Way to 2023!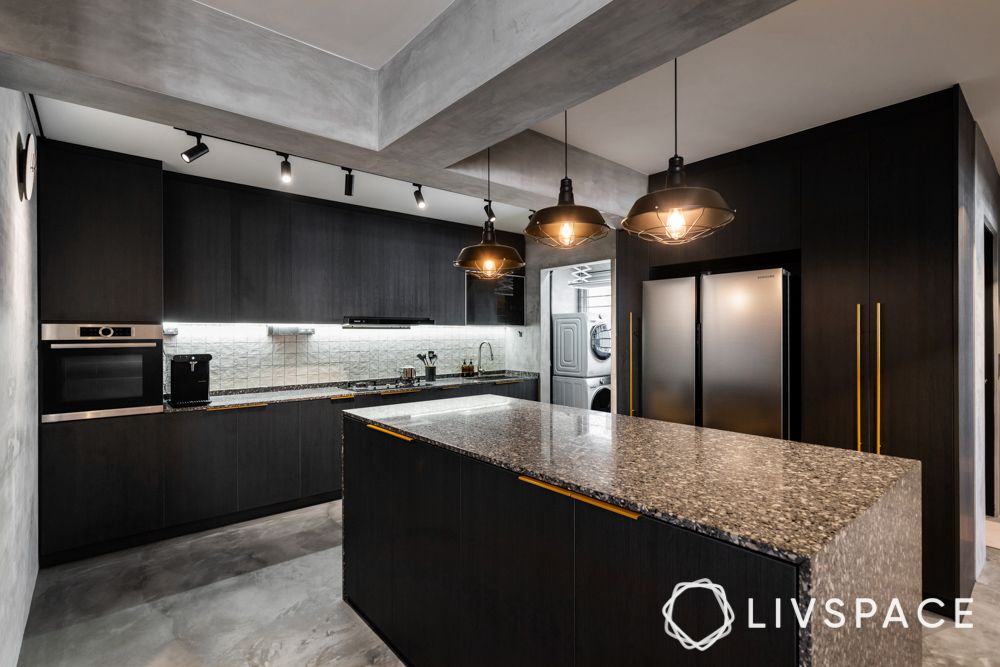 Industrial kitchens are going to be trending for a while, but they are also bringing in LEDs with them. Although, kitchen lights are dependent on what suits the aesthetic, mood changing features from natural to warm are becoming increasingly popular. Moreover, chargeable lights seem to be the preferred items to wire lights, simply for the sake of sustainability.
What Is the Best Lighting for Kitchens?
Task lighting is a must for under cabinets. Other than that, cove lights, pendant lights, LED bulbs and recessed lights are good options too.
What Is the Best Lighting for a Kitchen Ceiling?
Cove lights, recessed lights, pendant lights and task lighting is good for the kitchen ceiling.
What Colour of Lighting Is Best for the Kitchen?
White lights are good for the kitchen as they lend sharp, focused lighting to carry on cooking.
Are LED Lights Bright Enough for a Kitchen?
Yes, LED lights come with different degrees that can be accessed for the kitchen.
Enjoyed reading this article? If you are looking for more trends, we recommend you read the 5 Interior Design Trends That Will Disappear and 6 That Will be Popular in 2022. Wondering how our customers feel about working with Livspace? You can check out the Livspace kitchen reviews here!
How Can Livspace Help You?
We hope you found our ideas useful! If you want your home to be just as beautiful, then look no further. Book an online consultation with Livspace today.
More FAQs:
What Is the Kitchen Trend for 2022?
Kitchen trends for 2022 are open kitchens, contrasting colours and use of veined countertops.
What Colour Kitchens Are for 2022?
Very peri, the pantone colour of the year is the trendy colour to be tried out in 2022.
Are White Kitchens Out of Style In 2022?
White kitchen are very much in for 2022. They are especially preferred in contemporary or minimalist kitchens.
How Do I Update My Kitchen in 2022?
Update your kitchen with the help of Livspace designers. Book a free consultation today!