Have you ever wondered how you ended up with so much clutter in your home? Living in a clean, well-organized home enhances your sense of well-being. De-cluttering is highly recommended, but if you end up with too much stuff even after a de-cluttering exercise, we have ten tips to help you cleverly conceal and organize your excess belongings. Keep reading to find out more:
Ways to hide clutter #1: Headboard storage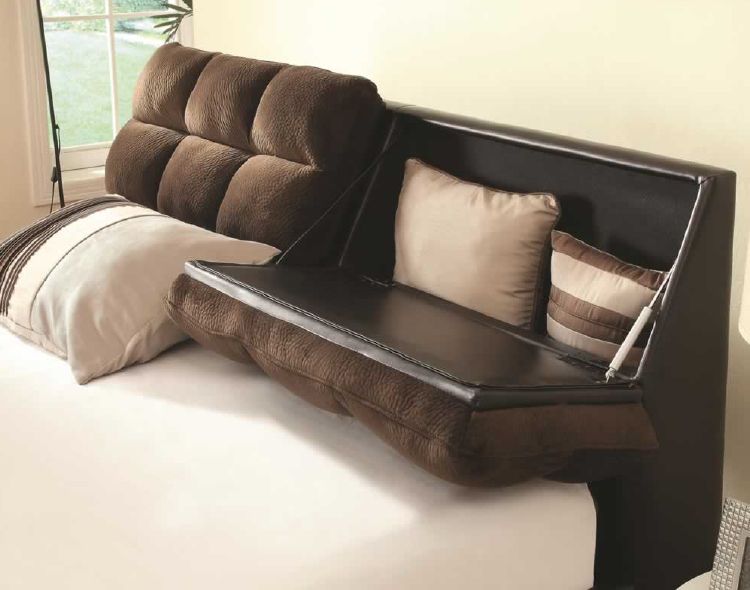 Source: Design Mag
Use beds with hidden storage space, like the one above, to stash your magazines, throw pillows and late night snacks. Your kids will never guess where you've hidden all the cookies!
Ways to hide clutter #2: Ottoman and table set

Source: Elikatira
A coffee table with a roomy compartment concealed under it makes for a unique storage option for ottomans. Keep magazines, laptop etc. on top and tuck the ottomans neatly under a table when you're not using them for seating.
Ways to hide clutter #3: Hiding cables

Source: Homedit
At some point in our lives, we have all encountered that dreadful cluster of gadget cables which refuses to untangle. A multi-device charging dock will help you steer clear of tangled wires and conceal all the cables so that you can do away with the eyesore.
Ways to hide clutter #4: Stairs storage

Source: Ideasgn
When it comes to making every cubic inch count, we all should take some inspiration from this idea. If you have stairs at home, you can design it with pull-out drawers under the steps and use it for stashing clothes, shoes and other items.
Ways to hide clutter #5: Pull-out pantry

Source: Headway Gallery
Don't let the narrow space between your built-in appliances and cabinets go to waste. Install a pull-out pantry and use it for keeping spices, condiments and even cutlery.
Ways to hide clutter #6: Use shades

Source: Shabby Decor
This quick hack will instantly help you hide all your pantry staples, spices and cutlery in your kitchen shelves. In fact, you can add shades to open shelves and side tables in any room. Choose curtains that match the interiors, and you are good to go!
Ways to hide clutter #7: Reusing gift boxes

Source: The Cuban in My Coffee
We often throw away the gift boxes we receive, completely ignoring their storage potential. Gift boxes can be used to store all your odds and ends. You can even add labels to them to help you with organizing, and they look beautiful on open shelves.
Ways to hide clutter #8: Velcro for small items

Source: Trucset Bricolages
Velcro is a life-saver when it comes to keeping remotes and joysticks in one place, preferably near the media unit. Stick them vertically to save on space.
Ways to hide clutter #9: Vertical storage

Source: Boredbug
Not enough space for all your spices? Bored of storing them in jars? Try storing them in small metal containers with see-through lids and place them on the side of your fridge using magnets. This not only helps organize your spices but also looks unique.
Ways to hide clutter #10: Versatile pegboard

Source: Homedit
If you're a designer, artist, gardener or crafting enthusiast, you can keep your work area clutter-free by using a pegboard for vertically storing your tools, inspiration images, crafting materials, etc. This will keep your work area neat while keeping all essentials well within reach.
Try these tips right away and treat yourself to a well organized, clean home.