Are you looking for home interiors?
If you've begun the search for an interior designer, you'd realise by now how complex and confusing the home interiors market is.  Not to worry, Livspace is here to to ease your load and handle the process from start to finish in just 8 simple steps.
Step #1: Book Design Consultation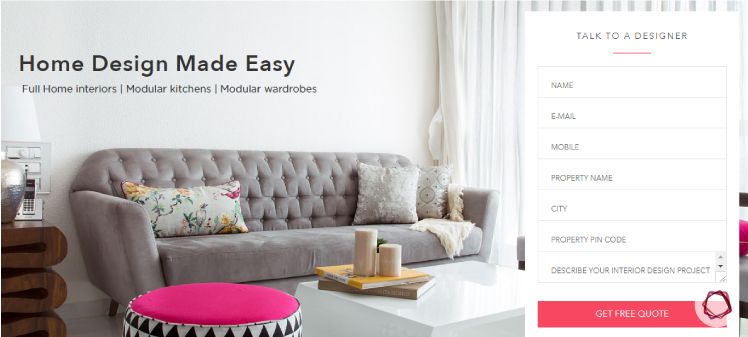 Fill in this short form with your details. Shortly, thereafter, we'll assign an interior designer based on your location and requirement who will reach out to you to schedule a design consultation.
Step #2: Meet Your Designer
Visit our Design Centre (think experience center where all our products, materials, craftsmanship and service capabilities are on display) for a face-to-face design consultation with your designer. Use this meeting to have a detailed discussion about your requirements, tastes, preferences and your lifestyle. You'll also get a tour of the Design Center, where you can touch and feel our interior "looks" on display.

Step #3: Get Personalised Designs
Based on the discussion, your designer will share a design proposal. This includes a mood board with the look and feel of your home, the furniture, colour palette, suggestions for materials, finishes and even decor! A tentative quotation, which will detail out your projected interiors cost  will also accompany it.

Step #4: Make a Booking with 10% Payment
If you're happy with the design direction that your designer and you have mutually agreed upon, you will have to pay 10% of your projected quote as a booking amount. Detailed designing can begin only once this payment is processed. This amount will be adjusted against your final order value.
Step #5: Review Home Design
During this phase of your home interiors project, your designer will perfect your home design until you're satisfied. Design detailing for each room and space; be it the bedroom, living room, puja room etc, the false ceiling design, the modular kitchen and wardrobe, furniture and decor, and the material, finish and color specification for every component in your home will happen at this stage.
Once you're happy with the design, a final quotation will be shared. Additionally, all service requirements like electrical, plumbing, flooring or any other civil work will be discussed at this stage. Quotations from our service partner network,who will fulfil these service requirements will also be shared with you. Once you freeze on a final quotation, no cost-overruns occur unless there are design alterations.
Please note: Payment terms for customised products and services will differ.
Step #6: Place Order with 40% Payment
At this step, you're ready to implement the designs at your home. Place your order by paying 40% of the cost (you've now paid 50% of your project cost) and we'll begin the manufacturing on confirmation. If you're opting for a home loan, this is when you should approach a bank. Any design changes post order confirmation will affect projected timelines.
Note: Livspace has tied up with reputable banks to ensure smooth approvals of home loan. Please speak to your designer to know more.
Step #7: Pay the Balance 50%
Once we're ready to begin installation, you will have to pay the balance 50% to get the on-site work started. Your project manager will also share a project plan with a comprehensive execution and logistics plan.
Note: Based on the complexity of the project, site work may begin before the 50% balance payment. These milestones are predefined and mutually agreed upon by your designer, project manager, service partner and you.
Step #8: Installation Begins
Once all the on-site work is complete, installation of your modular products, furniture and decor will begin and your home will be finished with finesse to match your final designs.
Sounds simple? It definitely is. For more details on how Livspace works, check out our #livspace101 series.